Annual Tuition Fees
The Tuition Fee Schedule for Publicly Funded Programs, such as the MFAcc Program, is reviewed annually. The Governing Council's decision with regard to this schedule is generally announced in July preceding the academic year. 
There is a $305 application fee that is non-refundable which funds the review required for your application.
The annual fees for students are listed in the SGSs fees schedules.  The tuition fees for students who begin the program in September 2021 will pay the tuition fees below (https://planningandbudget.utoronto.ca/tuition-fee-lookup-tool/):
Domestic students tuition fee: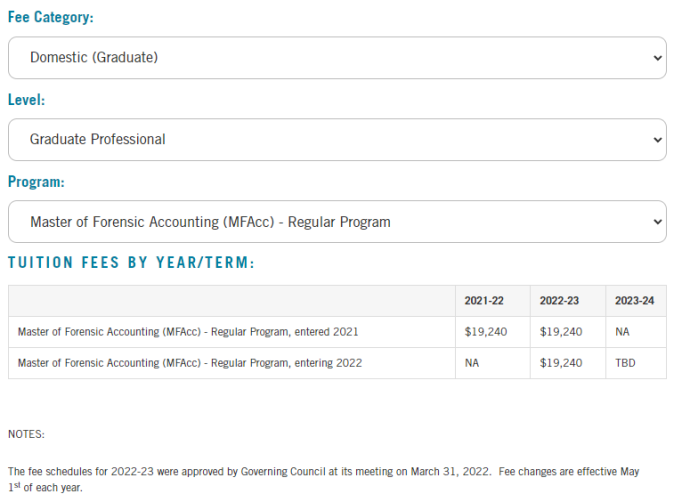 International students tuition fee: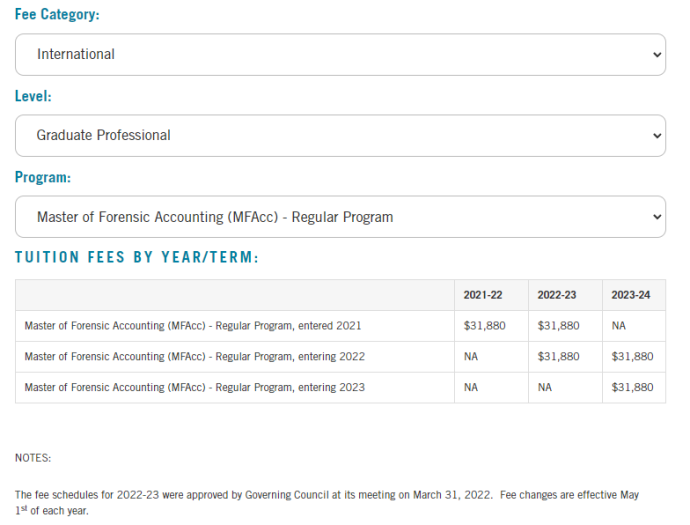 Whether paying Domestic or International fees, the following are also payable...
Plus university incidental fees*  - $942.20

Plus Health Insurance - $756.00

Once the applicant is accepted to the MFAcc program, a $300 non-refundable deposit is required . This deposit will be applied towards the first tuition fee payment. 
Note:
The tuition and incidental fees are ANNUAL (per year) fees.  As this is a two year program, fees stated would be times 2 years
The fees are in Canadian Dollars.
The annual tuition fees are set by the University of Toronto Provost Office and are subject to change each year.
The costs of books, e-texts and other readings are incorporated into the cost of the program.
Incidental Fees*
These are mandatory University Services and Student Society fees 
You pay for student society fees displayed on your ACORN invoice, however, some student societies will refund the student for health and dental plan and other fees (outside of ACORN).
Student society opt out application deadlines are set by each student society and are only available within limited periods (usually at the beginning of a session).
View student society contact information on Contact Us page
 
Residency Period Costs:
Students are financially responsible for transportation and accommodations while at the university during the residency course which is the last course in the second year. During class times, group meals are provided.  Accommodations at nearby hotels range from $80 - $140 per night.
International students studying in the Program will be provided with medical coverage through the University Health Insurance Plan (UHIP) during the residency period. The fee for this coverage is mandatory. Further information regarding UHIP is available at the University of Toronto's Centre for International Experience.
 
Financing your Graduate Education 
The MFAcc Program is a professional course-based part-time on-line graduate program and does not offer any partial or fully funded scholarships. 
Domestic Students
Scotiabank Professional Student Plan
The Scotiabank and the University of Toronto have proposed a Professional Student Loan Plan for University of Toronto students enrolled in a professional program. Further information is available.
The University of Toronto cannot guarantee that applicants will receive funding or loans.
International Students
International students must seek funding from their home countries.